September 29, 2019 § Leave a comment
OCT. 3, 2019 – JAN. 5, 2020
The SCAD Museum of Art presents an exhibition centered on the Frederick Douglass Family Archive from the collection of Walter and Linda Evans. This historic register of the Douglass family's manuscripts, letters, newspaper clippings, and photographs are displayed in dialogue with artworks by contemporary artists whose work reflects the aesthetic and political values espoused by this revolutionary leader.
For Douglass (1818-1895), an individual who was born into slavery and went on to become one of the world's most-renowned social justice campaigners, the right to the imagination was the right to life. In his work as an orator, author, and fierce intellectual, the abolitionist believed that not only words, but works of art, were tools in the path for freedom. As a prolific creator and collector of autobiographies, essays, diaries, poems, photographs, paintings, drawings, and sculptures – many of which now reside in the Walter and Linda Evans Collection and are included in this exhibition – Douglass ultimately believed in art as a means to individual and collective liberation.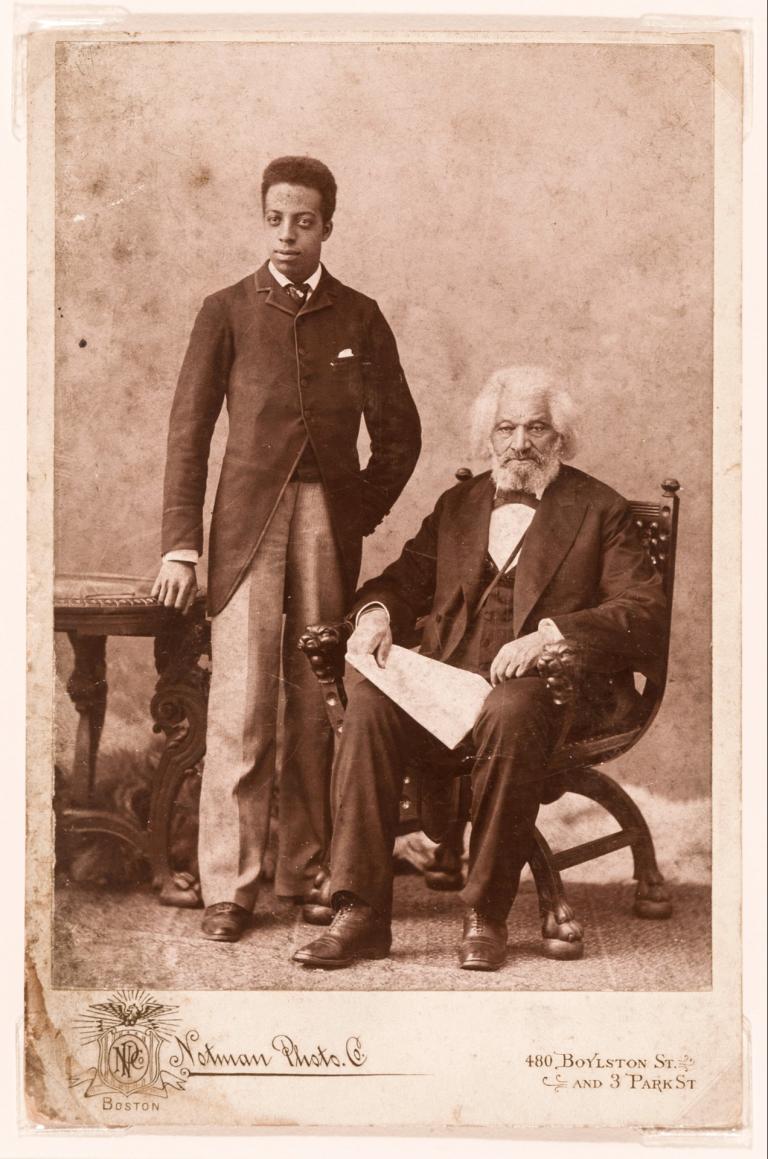 Frederick Douglass: Embers of Freedom is a dynamic exhibition that addresses critical subjects that shaped the life's work of Douglass and continue to be at the forefront of today's sociopolitical discourse. This project makes visible the historic narrative of the Douglasses and their unwavering commitment to transatlantic abolitionism and radical reform, not only for African Americans but for society as a whole. Additionally, this exhibition offers an expanded definition of Douglass, as it considers him not only as a key figure for civil rights but also an advocate for women's suffrage, one of the first proponents of photographic theory and, perhaps most distinctively, as a family man.
Key issues examined within this exhibition include: the value of family, representation and visibility, archival methodologies, the legacy of slavery, black resistance and intergenerational struggle. The Douglass family's archival materials have been brought into view alongside special commissions by artists Onyedika Chuke, TR Ericsson, Glyneisha Johnson, Le'Andra LeSeur (B.F.A., photography, 2014), and Charles Edward Williams (B.F.A, advertising, 2006); as well as master works by Jacob Lawrence and Charles White held within the SCAD Permanent Collection; and critical objects by some of the leading figures of contemporary art such as Lyle Ashton Harris, Titus Kaphar, LaToya Ruby Frazier, and Betye Saar. Together, this holistic grouping of artwork provides viewers with the opportunity to consider the past and present circumstances in which the ongoing fight for social justice has taken place. In this exhibition, there is hope that viewers will be galvanized by the monumental feats of this "First Family of African American History," to carry on the torch of activism.
Artists featured:
Raphaël Barontini
Kevin Beasley
Onyedika Chuke
Scott Covert
Omar Victor Diop
TR Ericsson
LaToya Ruby Frazier
Lyle Ashton Harris
Lubaina Himid
Glyneisha Johnson
Titus Kaphar
Jacob Lawrence
Le'Andra LeSeur
Meleko Mokgosi
Martha Rosler
Betye Saar
James Van Der Zee
Barbara Walker
Gillian Wearing
Charles White
Charles Edward Williams
Wilmer Wilson IV